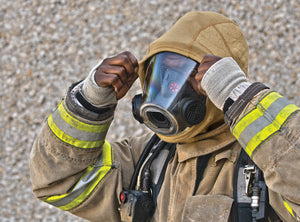 PARTICULATE BARRIER HOODS
Particulate blocking is the next priority for firefighters' Personal Protective Equipment.  Safedesign offers several options to help keep particulates away from your skin, including the newest offering from PGI – The makers of the first Flash Hood.
PGI Cobra™ BarriAire™ Gold Hoods lead the way in particulate barrier hood protection. Coverage where you want it with fit options that allow you to maximize your personal mask-up capabilities. Whether you prefer in‑channel or over the mask, standard or extended bib, or additional DuPont™ Nomex® Nano particulate blocking power, BarriAire Gold Hoods are the fitting response to the hazards you face.
For more info on our particulate blocking options please give us a call at 416-2553-9122.
The skin is an organ that breathes, sweats and absorbs.  It also burns under high temperatures.  When heat and toxic chemicals are present, the skin should be appropriately covered.   This is where a particulate barrier hood is absolutely necessary on your firefighters.
Traditional hoods were developed to protect mainly from flashover – a spontaneous ignition of combustible gasses.  The new generation of hoods now offer a barrier to block contaminants from reaching the skin's surface.  Because the hood covers the neck, head and ears of the firefighter, the construction of this specialty garment should be flexible to allow for range of motion and made of a material that doesn't interfere with the firefighters ability to hear.
---